Captain Krenn's Stories
This here is the page of Captain Krenn, stalwart of the Taldren boards and special guest star of this here website! Krenn is held in affection by many – if not all – of the Taldren authors and on reading the short stories below you will find out why. As with all my Guest Authors, Krenn's stories do not take place within the universe that the TeraQuad (my new term for Larry, Jaeih, Ady, and I) operate in.
Most of Krenn's work consists of short (very short!) pieces of humourous prose based on the preconceptions of the various races, differing technologies, and even the people he "talked" to on the Taldren boards and the games rooms they hung out in online. He has, on occasion, branched out into proper stories. These stories are good work, despite his protests to the contrary for his lack in completing some. *hint, hint!*
So, without further ado, here's the man in his own words.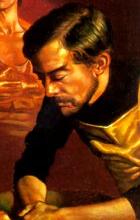 I was playing Starfleet Battles when most of you youngsters were still just a couple of cells organizing in your mother's womb. Starfleet Command came out 20 years later and I rediscovered my love for starship combat.
Trying to decide on a name to use wasn't hard once I decided that those fun-loving bikers of the universe were to be my race of choice.
I really don't fit into the modern Klingon image, I always prefered the TOS Klingons (much to Lara's continuing annoyance). The Novel by Mr. Ford [Andy's Note: The Final Reflection by John M. Ford] stirred my imagination and I couldn't think of a better Klingon name.
I met Jaeih in battle for the first time and was trounced severely, and thus began my life-long hatred of her :) j/k! Put down the sword!
I began writing these stories as it was just for fun and work was slow. Some of them brought good responses from the people I know and admire on the Taldren forums. (For the life of me I still don't know why.)
Anyway I hope you enjoy them.
The Movie Era
| | |
| --- | --- |
| | — Full Story posted 2nd September 2004 |
The Romulans ponder on the uses of certain pieces of Federation equipment.
| | |
| --- | --- |
| | — Full Story posted 2nd September 2004 |
A puzzling battle shows all concerned the need for communications officers.
| | |
| --- | --- |
| | — Final Chapter posted 15th October 2004 |
An unsatisfactory ending to the ISC War of Pacification leads Admiral Krenn and the remainder of the Federation Council to try something new.
---
'Honor Blade' - Full Story posted 3rd November 2004
Captain Krenn teaches another Klingon the value of holding on to one's honour, despite the other gains that may be had.
'It's the Little Things' - Full Story posted 13th November 2004
A chance encounter in a distant star system leads to a battle, and unexpected consequences for the winner.
'Negotiations' - Full Story posted 25th November 2004
Leaving the diplomats behind, the leading ship captains of the various Star Navies try to reach an accord.
'Debris' - Full Story posted 1st December 2004
An unfortunate incident for a familiar dock master reminds us all how important it is to take our messages.
'Career Choices' - Chapter Ten posted 18th July 2005
Two close friends from a Federation planet end up having their lives taking wildly different paths after Starfleet Academy decides their fates.
'Romulan Battleship' - Full Story posted 9th December 2004
The appearance of a new class of ship reminds us all not to annoy certain people, lest they become annoyed with you.
'Pie-rats' - Full Story posted 27th January 2005
A little tribute to the Golden Age of Piracy in the 23rd century.
'Santa Got Run Over By a Klingon' - Full Story posted 23rd December 2004
The Klingons get into the festive spirit.
'Set Disruptors on 'Stun'' - Full Story posted 4th February 2005
A long-running feud between the Klingons and Romulans is finally, decisively, settled.
'Klingon Dreams' - Full Story posted 10th February 2005
Captain Krenn rediscovers the value of getting a good night's sleep before sitting in on yet another Federation peace negotiation.
'Khristmas Songs' - Full Story posted 23rd December 2004<
Captain Krenn provides us with a personal rending—my apologies, rendition—of traditional Christmas classics with a particularly Klingon twist.